Insurance Processing for Small Brokers
A scalable solution designed to grow with your business - arming your service team with dedicated customer service representatives (CSRs) that streamlines insurance processes and transactional functions to reduce staff strain and elevate the customer experience.
Dependable & Affordable
A simple, flexible solution to maximize your agency's profitability
Whatever you call your agency - Family Owned Agency, Independent Agency, Broker Agent - chances are you need a little more help but don't want to deal with the hassle of hiring a Client Services Rep (CSR). In today's competitive hiring environment, finding help has never been more challenging and because of this, Patra has created a unique service to help your agency. It is called Patra Assist.
The Patra Assist service offering allows you to have full-time CSRs operate as an extension of your team to assist with operational needs but without all the overhead and HR challenges. Our CSRs provide processing support for one or many tasks and the best part is that they operate within your agency hours, your management systems, your communication platforms, and learn your specific workflows.
So stop working 80 hours a week, sacrificing family or personal time - or worse, time talking away from growing your customers - and let Patra Assist help your team.
How Patra Assist for P&C Can Help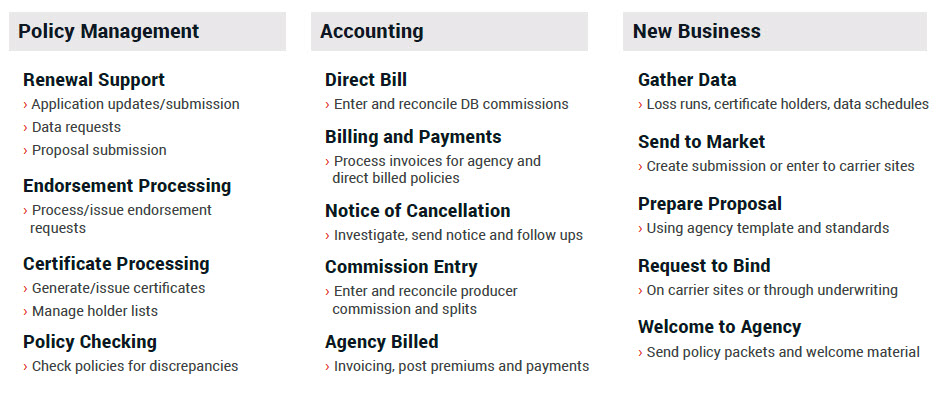 How Patra Assist for EB Can Help



I am truly amazed at how quickly our Patra Assist team learned the AMS and our procedures. The team continues to show enthusiasm every day while learning new processes. We are working on expanding this program to our other profit centers as soon as possible. General Manager - Morris & Peynolds
Service Overview
Why Patra Assist?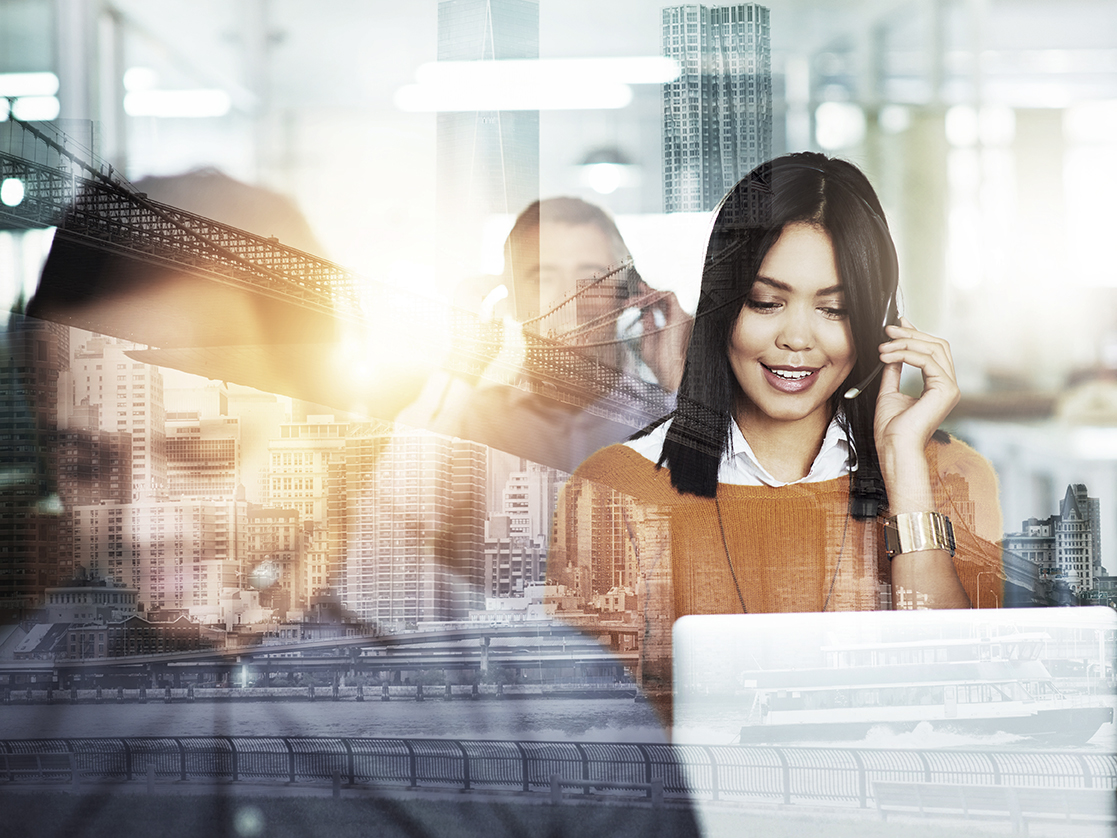 Your Time Matters
Support & coverage within your agency operating hours. Seamless adoption of your agency management system, IT configuration, and workflows.
Fixed Pricing
Our fixed pricing ensures you get 100% of the service you pay for, no more, no less. Helps you manage agency cash flow.
Dedication To You
Dedicated CSR team to standardize insurance processes. Customizable training tailored to your operational needs.
Safe, Confidential & Seamless
Recruitment, hiring, and HR administration facilitated by Patra. If there is an issue, we fix it.
How It Works
Take The Weight Off Your Shoulders
Finding the right talent to fit your need can be taxing. That is why Patra Assist is specifically designed for agency leaders who need help but don't want to manage the hiring process. We listen to you, we find the right CSRs, you interview them, then we hire them. If at any time you want to make a change, let us know. They work for you, but we take care of the overhead.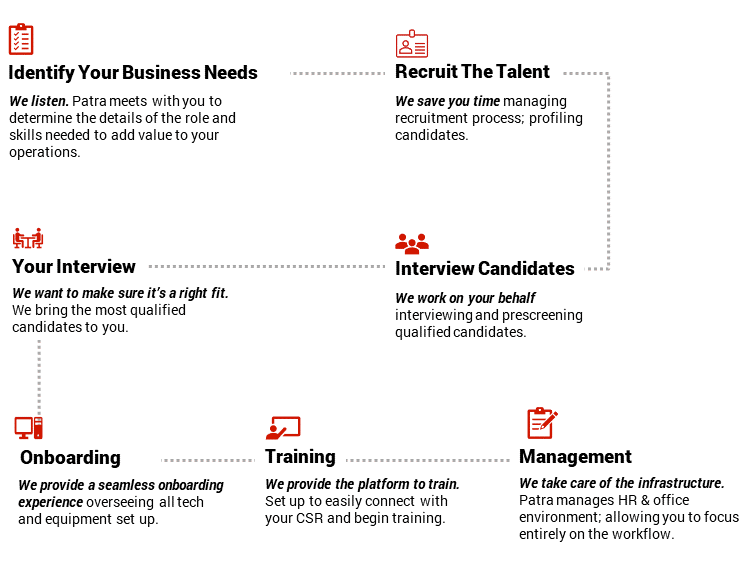 What Patra Assist Customers Are Saying
Patra was able to take on repetitive tasks not requiring customer interaction or coverage interpretation. We saw a 50% reduction in New Business Processing time, allowing account managers to support extra producers. - A $5 Million Agency in New Jersey
We Understand Your Business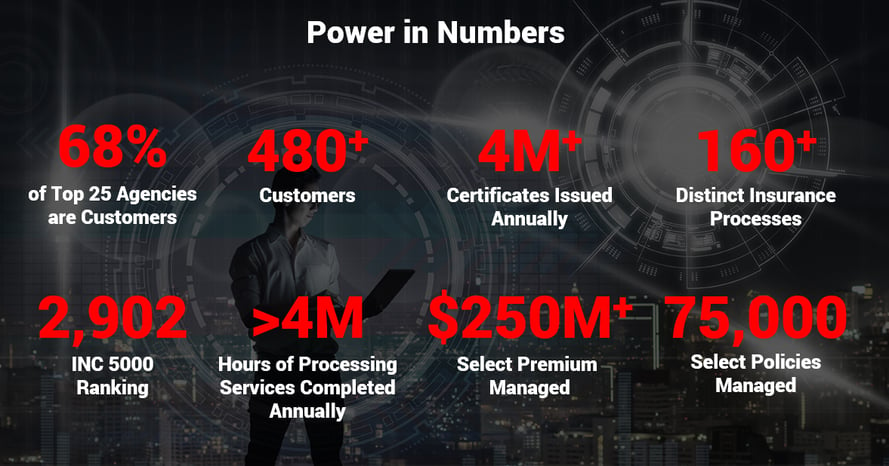 Everyday Answers for Everyday Questions
Insurance is a people business and finding the right talent can be intimidating. Let us ease your concerns by addressing these common questions.
Who is Patra Assist for? Who typically partners with you and uses the Patra Assist service?
Patra Assist is designed for agencies who are looking for non-licensed insurance help because they are growing, have staff that may be transitioning or retiring, are having challenges finding quality, entry-level candidates are given today's WFH/COVID-19 environment, or they just need extra help with the hassle of managing the hiring and HR process that comes with bringing on a new employee.
A typical agency profile that uses Patra Assist are those with annual revenues around $7,000,000 a year (not premiums, revenue) and typically have less than 20 to 25 staff. If you have more than 25 staff, chances are your revenues are over $7M and our Patra OnDemand Services are more for you. Please visit our OnDemand Services or our "Contact Us" page and select "$7m to $20M". We ask this question only to ensure the right sales representative is assigned to you.
How much does Patra Assist cost?
Our pricing is fixed so you don't have to manage wild up and down swings from month to month. There is a one-time onboarding payment of $2,500. Each Client Service Representative cost is $2,700/mo with a 12-month commitment. If after 12 months, you want to cancel, you can cancel. If you wish to extend another year, you can do that, too.
Most agencies start with two CSRs but you can start with one and ramp-up. The min is one (1) CSR. If you add another CSR, there is no onboarding for that CSR, we simply add the new CSR to your existing agency relationship.
What other financial benefits are there?
There are many. With the Patra Assist program, you can focus on your business with the help of a full-time CSR, but not have to worry about all the administrative or HR costs that come with hiring part-time or full-time staff in today's environment. You do not have to worry about all the extra benefits that State or Federal law require you to manage such as the Affordable Care Act, part-time hourly limits, health care, PTO, ERISA Retirement plan rules, sick-leave, disability, just to name a few, or doing reviews and 1:1's. There is no 1099 form.
Can I use the CSR part-time, I'm not sure I have 40 hours of work for them?
Unfortunately not. Because we are hiring the CSR on your behalf and ensuring they have employment and are dedicated to only your agency, we have to have a full-time commitment. However, this has never been an issue for our agencies because even if there is downtime the CSR can do light bookkeeping. You'd be surprised how fast a 40-hour workweek gets filled up. And don't forget, you can have them work on multiple tasks or processes.
Can the CSRs make calls? How will they make their calls?
Yes - the CSRs can do follow-up calls on loss runs or billing inquiries, remember, these are non-licensed CSRs. Patra will provide Outlook and Zoom as part of the configuration. If you require the CSR to make calls, you can either add them to your existing phone system and provide them with a number OR for a minimal monthly cost of $35, Patra can provide a Zoom Dialer plug-in.
What can the CRSs not do?
The CSRs are not lawyers, CPAs, accountants, or IT professionals. Those are very special professions with very unique skill sets so if you are looking for that level of specialty, unfortunately, this service isn't for you. But if you are looking for more day-to-day administrative help, then Patra Assist is a perfect fit. These are not licensed agents but they will have a basic understanding of insurance.
How long does it take to get started?
We can have them ready for your training in a week from the time you pick the CSR. From the time we contract for the CSR, Patra will take a week to train them on the Patra systems, we run them through our Patra Insurance 101 training, and then they are ready for you to train them on your workflows and processes.
What happens if the CSR doesn't work out, now what?
If you are unhappy, then we will find a CSR that works for you. One of the nice things is that you get to interview the candidates! We work on your behalf to interview and pre-screen three qualified candidates before we present them to you. Patra has a team of managers who recruit, interview and help you interview and onboard your CSR. If you don't like whom we put in front of you, we can find another recruit.
What happens if the CSR is awesome, can I give them gifts or a bonus?
First off, we want your CSR to be awesome and we would love for you to feel that way. Due to gifting rules, we do not allow cash or bonuses to be given to your CSR. You are however allowed to send company schwag (tote bags, hats, pens, shirts, water bottles, etc.) so they feel part of your agency.
How do you ensure security?
Patra takes your security very seriously. The CSR is an employee of Patra but will be "white-labeled" to your agency - meaning, you give them an email address but they are not legally your employee. This ensures that our security is enforced and we can control all access points. As a SOC2 Compliant company, Patra takes the security of your systems and our CSRs accessing any of our agency's systems as a top priority.
In the office, we have biometric security for checking in and checking out of work. All employees have lockers so they are not allowed to bring their personal devices to the desktop. We have a series of safety controls in place to track and monitor activity including cameras on our Patra floors and there is a floor manager with access to all the laptops.
What Hours Does the CSR Work?
Your CSR will work your hours. From Hawaii to Maine, your CSR will work your open hours. They are assigned 40 hours of work time a week and can schedule them any of the six days a week you wish except for Sunday (everyone needs a day off). Each day must have eight hours so you can have them work Monday to Friday with Saturday and Sunday off OR Monday to Saturday with Wednesday and Sunday off - you pick. Each eight-hour day will include two, 15-minute breaks and one off-the-clock hour break.
What about PTO or Holidays, how is that managed?
We all deserve a day off and the CSR is just like us. The CSRs earn one PTO credit for each month up to 12 in a calendar year. In addition, the following US Holidays are provided as days off:
New Year's Day

Martin Luther King Day

Presidents Day

Memorial Day

Independence Day

Labor Day

Thanksgiving

Day after Thanksgiving

Christmas Eve/Christmas

New Year's Eve/New Year's Day
What about their education or language proficiency?
Your CSR will be proficient in English and will most likely have a college degree. However, a bachelor's degree isn't a requirement nor have we found that to be an issue with any of our clients - our focus is on getting you the best possible CSR for your agency.
Are you ready to grow your business - you're only a few short questions away.